St. Jude Children's Research Hospital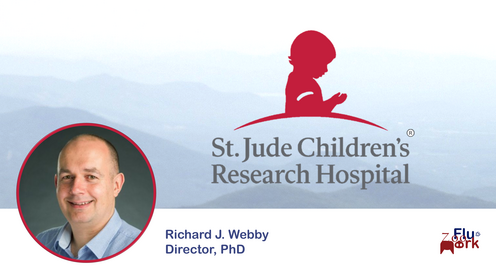 St. Jude Children's Research Hospital is represented in the FluZooMark project by Richard Webby
Richard is recognized internationally for his OneHealth-related research on IAV virology at the human-animal interface. He has more than 20 years of research expertise on influenza A virus (IAV) in humans and pigs, and has extensive expertise in IAV epidemiology and the use of the ferret models. Furthermore, his group was one of the first to use reverse genetics for the study of IAV, and include great assets within experience in the human innate immune responses to IAV and how these responses influence disease severity. Richard is the director of both the World Health Organization's Collaborating Center for Studies on the Ecology of Influenza in Animals and Birds, and The National Institutes of Health-funded St. Jude Center of Excellence in Influenza Research and Surveillance. He has a track record of successful international collaboration and has experience with managing large multi-partner, multi-country research consortiums.
Richard and his group will be responsible for ferret studies and will participate in the development of infectious clones. Additionally, his group will supply viruses obtained from humans infected directly from swine, and will be responsible for the studies involving measurement of the innate responses in human systems.
St. Jude Children's Research Hospital opened its doors in 1996 with a mission to find cures for catastrophic diseases of childhood. Pandemic influenza is clearly a catastrophic disease of childhood, and It is therefore in perfect alignment with the values and mission of the hospital to host Richard's group and support the FluZooMark project in terms of premises, administration, and required facilities.
Members from St. Jude Children's Research Hospital