University of Copenhagen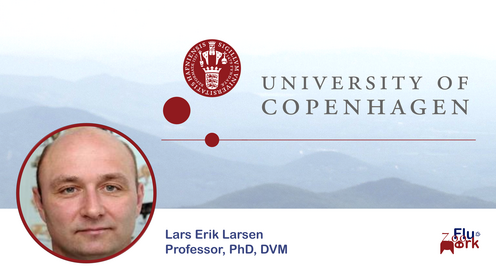 University of Copenhagen is represented in the FluZooMark project by Professor Lars Erik Larsen, who is also the formal manager of the project.
Lars is an internationally recognized researcher on viral infections in animals with 25 years of research experience in virology. He is responsible for providing research-based advice on veterinary and zoonotic aspects of influenza A virus (IAV) infection in animals, and has since 2010 been responsible for the national laboratory contingency program on IAV in animals. He has an extensive national and international network, and has close cooperation with scientists within pathology, immunology and epidemiology. He is the head of the national expert group for influenza in animals and is a board member of the Danish Society of Virology and The Danish Pig Veterinary Society. Furthermore, Lars has participated in a wide range of EU projects and international fora such as ESNIP, OIE, and OFFLU.
Lars will be responsible for developing infectious IAV clones by using reverse genetics, for which he has established all necessary tools. Additionally, he will be responsible for establishing and applying methods for the characterization of isolates in vitro, in situ, ex vivo and in pigs, as he has developed an experimental challenge model for IAV in pigs. Finally, he has access to a unique collection of IAV strains obtained from swine during the last 10 years, and will therefore be responsible for providing swIAVs for sequencing.
From 2020, KU and SSI assumes a split responsibility for the Danish Veterinary Contingency program, thus merging human and veterinary contingency programs and creating a unique OneHealth approach to surveillance, prevention, and research in zoonotic infectious diseases. The FluZooMark project is perfectly aligned with activities on IAV within these programs, and it is therefore a natural extension that the Faculty of Health and Medical Sciences will support the project and host Lars's research group.
Members from the University of Copenhagen